OUR QUOTIDIAN LIFE

Reading notes, by Liviu Comsia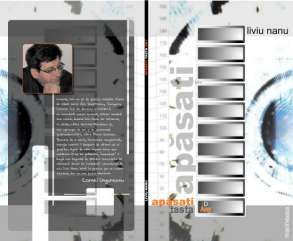 Liviu Nanu is not a poet of the roses, grace, and Oblomovist sentiments, for sure. Nor is he a melancholic poet of the sublime. His world entirely spans across the every day life, filled with mundane pains, troubles, losses and gains, and mostly with common events or brushed aside facts, that become extremely important in his lyric alembic. His poetic sensitivity unnoticeably insinuates itself amidst these canyons of the quotidian existence, heavily resisting all temptations.
Liviu Nanu's poetry does not concede in any way. His artistic imagery is engaged in ample portrayals of the world he lives in, marked by the sadness of the character that he creates, presenting himself as a cold, impartial poet, as much as possible an objective commentator, never a troubadour propelled by exuberance or oversensitivity.
Liviu Nanu depicts himself as being born out of contraries, harsh and inevitable conflicts: "My birth is a consequence/ of fights between ancient tribes" Or, even more precise, "I was born as a result of gambling, just when God was dealing with a stiff hand"
This is how Liviu Nanu starts his second poetry book, "Press the Key ANY" (Marineasa Press, Timisoara, 2005), a book engaged in a fervent quest for the right place to be.
As a matter of fact, his poetry emerges from this continuous in depth research of the day-to-day reality. He seems to have always been a tragic character, so restlessly in search of his own place to be, that he proposes us, after long debates with himself, a vision about life, and thus prompts us to find our own places in this reality.
And what does Liviu Nanu believe life is? His system of thinking earnestly rely on the belief that the reality produces truth and beauty, while fiction, fantasy, and imagination are only places where we seek refuge when the world seems hard to endure or hold on to.
Let's go back to the poem titled "Autobiography", a lyric jewel through its sincerity, irony, and kindness, all employed by the author in self-contemplation: "I was supposed to become a positive character, destined to search my foes through the world/ My mother sang ballads in tears/ My father hid money under the soles of the house// Nevertheless, I became a beggar/ for words, for secrets, for meanings/ I carved them later on/ and industriously placed them in verses"
This is how sincerity pervades the leaded wall of the quotidian existence! Although the frosted wind of pessimism blows throughout the poem, the poet's poetic conception simply excludes this sentiment. Liviu Nanu is not pessimistic at all, quite contrary, his hymns are only crumbles of a vast poem of joy, where he is the one, the gifted, the chosen: "it was one of those defect days when we were happy/ about our ripened fingers". Or even more evident, endowed with the righteous principles: "I was unable to lie, never knew how really/ I tried timidly several times, my glasses steamed with emotion" These verses are cited from a love poem! Apparently, these are the dimensions of the day-to-day life suggested by Liviu Nanu.
I said "apparently" because Liviu Nanu never stops at the existential envelope. He drills further, searches, ponders, fervent at times, industrious on other occasions, but always avid. Even if: "the time is not round/ we see it/ as such/ the time is an illusion as if/ carving straight lines/ on egg". And further on, childishly directing us towards dream, towards childhood: "the time is the cuckoo/ in the pocket watch", when everything becomes possible, everything happens, fabulously.
Therefore, all of a sudden, along with the passing time, or mostly ages, the poetic commentary is allowed gracious games: "nothing bluely floated finger signaling/ we pulled its ears saying hey nothing!/ you are nobody ". The game being gracious is only the illusion, poet's own self is convulsed by lines scribed across the life embryo, the egg, marking it irrevocably. The effects can be seen manifesting throughout the segment of time known as life.
Between illusion and reality, terribly lies the word: "I found out that/ articulating a word can have/ creative power" And in the beginning there was the word, right? Its power prevails and alleviate, builds and demolish, rebels and dominates. Life is born through the power of a word. All the treasures of our too short existence, quoting a writer from Rosiorii de Vede, are nested in this word. This is why Liviu Nanu's poetry often comes into existence from this word arranged in all possible ways to reveal the most hidden inner essences of the poet and the man.
Many of his poems are centered on the connection between his being and the word, as I said. The word is loaded with poetic fantasy and energy. The waste of sensitivity and feeling is a profound fact of life. By conjugating them, Liviu Nanu, can build a vivid, ironical image of the reality, explicitly confessed. The humor and irony, do nothing else but compose in Liviu Nanu's verses the tonality that Cornel Ungureanu, the critic, saw coming from the poetry of Marin Sorescu. There is some consonance, but the tragic seriousness of the Oltean, emerged from the rural life, whereas the seriousness of the Muntean Liviu Nanu comes from the intellectual culturally enriched and, therefore, marked by fantasies and tendencies tilted towards ideal. Further on, even the tone of this book is more harsher than that of his previous book , "Incitement to Disobey" (Tipoalex Press, Alexandria, 2002), where he indulges much more. Anyhow, the two books breath and sing, praise and accuse our existence, without considerateness.
Liviu Nanu is not sentimental in the consecrated sense of the word. He is the one that pronounces the confessing word in both, direct and deceiving manner, compelling to meditation. He is unkind when sizing our image in the hallway mirror. He is kind, understanding, and deeply sad that we lose ourselves way to often in seedless words. He challenges us to a severe self-temperance, revealing values of the memory and its overwhelming importance.
Liviu Nanu's advice must be considered, for it is the proposal of a contemporary poet's conscience, brave enough to dream and recount, a dream about a transient world, constrained by a time that does not have patience even with itself.